From England to New Zealand the royal family turned out to pay their respects on Remembrance Day.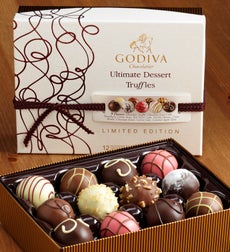 In London The Queen led her nation's ceremony, several red poppies brightly adorning the black overcoat she chose for the occasion in Whitehall.
Overlooking The Cenotaph from a balcony at the Foreign Office were the Duchess of Cambridge and Sophie, Countess of Wessex, choosing to wrap up against the cold in black coats.
The Duchess also wore a wide-brimmed black hat, while Sophie chose one in a smaller style. The royal ladies were joined by Princess Anne's husband Timothy Laurence and the three looked on as their respective partners laid tributes at the memorial.
1-800-BASKETS.COM --
Godiva Ultimate Dessert Truffles Box
Click link for full post from HelloMagazine.